How to make a Mickey Mouse Figurine!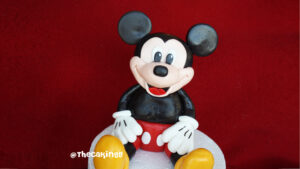 Hey everyone, I know a lot of ppl wanted to know how to make an edible Mickey Mouse figurine with fondant or gumapste, myself included! He's one of the most challenging characters to create in 3D for cakes. I figured out a way to make the snout, so I recorded it for a tutorial.
This is my Mickey Mouse Figurine tutorial! 🙂
IF YOU LIKE THIS TUTORIAL, PIN IT AND SHARE!